Amafirlian alternative for a cuboctahedron. It contains 6 Amafirlian squares.
Building Instructions
Edit
It is best to build the 6 Amafirlian squares first.
Connect 3 of them around a triangle on a flat surface.

Make sure to have opposite polarities when connecting them.
Make sure the orientation of the Amafirlian squares is the same throughout.

Gently fold 2 of them up and connect them with another square, again around a triangle.

You will have to keep this in one hand while doing the next step.

Connect another square to the one you are holding and one it is connected to bellow.
Fold up the remaining square at the bottom and connect to the square from the previous step.
Insert the remaining square into the model, completing it.
Related Links
Edit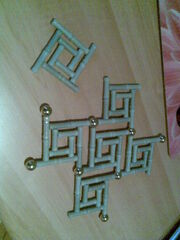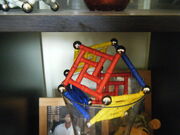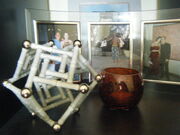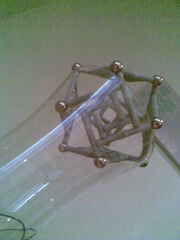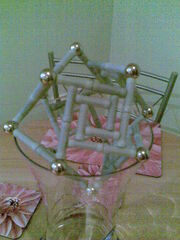 --Alan garside 03:41, 24 December 2008 (UTC)
Ad blocker interference detected!
Wikia is a free-to-use site that makes money from advertising. We have a modified experience for viewers using ad blockers

Wikia is not accessible if you've made further modifications. Remove the custom ad blocker rule(s) and the page will load as expected.